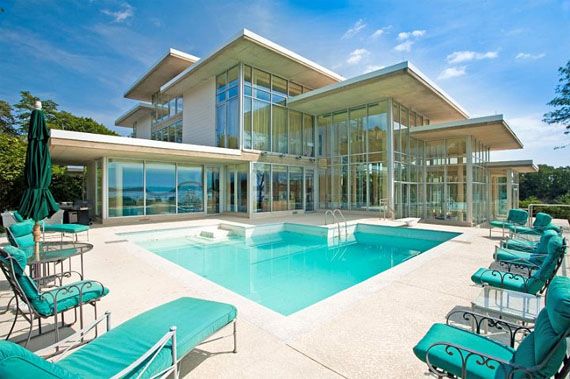 Photo Courtesy of Concierge Auctions
An all-glass waterfront home located in Pasadena, Maryland, which was originally listed at $7.9 million, will be auctioned in May. The property's auctioneer, Concierge Auctions, also announced it will be an absolute-format auction.
So, regardless of the amount of the highest bid at the last tap of the gavel, the distinctive Chesapeake Bay area single-family residence will be sold to the highest bidder.
Real estate broker Coldwell Banker Residential Brokerage is working in conjunction with the auctioneer to facilitate the sale of the luxury property that will occur at auction on May 6. Listing agent Betsy Stettinius said that the owner of the property is fully committed to selling and is willing to allow bidders to name the price in return for a guaranteed sale.
"This remarkable home defines contemporary, luxury living at its finest. It's completely secluded yet offers unrivaled river views from nearly every room thanks to the use of floor-to-ceiling glass as the home's principal structure," said Ms. Stettinius. "This auction is a tremendous opportunity, one of the best the Chesapeake Bay area has seen in some time."
The "Glass House" has 9,700 square feet of living space and sits on a 3.51-acre private peninsula. It is located at the end of a private, gated lane and surrounded by a confluence of the Magothy River, the Broad Creek and the Sillery Bay. There is a private beach and a deep-water pier with several boat slips. The exterior of the property also features an outdoor swimming pool and a large patio area. Additionally, there is a guesthouse and a caretaker's cottage on the exclusive property located on the western shoreline of Chesapeake Bay.
The big "Glass House" is approximately a 40-minute drive to both Baltimore and
Washington D.C
. The upcoming auction will be the second visit of the deluxe-property auctioneer to the area. The company managed the auctioning of two luxury properties in Maryland during the summer 2010, according to Laura Brady, VP of Marketing at
Concierge Auctions
.
"Following our successful auctions of two unique Maryland homes last summer, we're thrilled to be back in the state, particularly to sell a property as extraordinary as the "Glass House," said Ms. Brady.
Since the sale of this waterfront property is guaranteed, that is, unless absolutely no bids at all are received, this transaction should serve as an indicator of the current value of luxury properties in the Chesapeake Bay area. It might be a good idea to drop a line and go fishing.
Bidding for the May 6 absolute-format auction is available by phone and online. For more information, visit
www.glasshouseauction.com
.