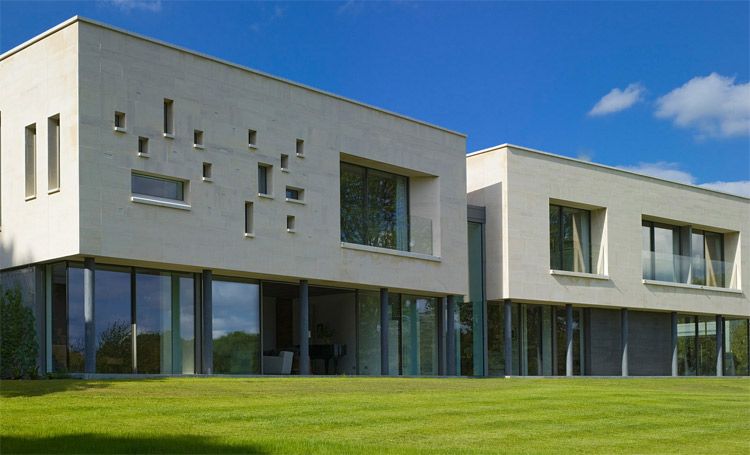 Luxury architecture
firm McLean Quinlan, founded by Fiona McLean, is a practice that focuses on sustainable, holistically built homes that consider the landscape and the function of interior design. The practice has been involved in numerous projects throughout the United Kingdom, such as the Buckinghamshire residence, a contemporary home located in South East England.
The house is light and modern, allowing a great deal of natural light to flood the home. Built on high ground, Buckinghamshire overlooks green countryside and a park designed by Todd Longstaffe Gowan. The main access is approached by large, granite slabs that create a walkway over a shallow pool of water. A dining area gracefully floats over the water on the left side of the entryway. The façade of the home is made from a clean limestone while a stone wall wraps around the building and courtyard entrance.
The large windows and roofs planted with heather and lavender allow the building to become part of the surrounding natural environment. Interior walls of glass separate formal areas, such as a study and guest, from the living and family rooms. The home's streamline elements blend contemporary design as well as recall the traditions of English country homes.
To see more of McLean Quinlan projects visit
McleanQuinlan.com