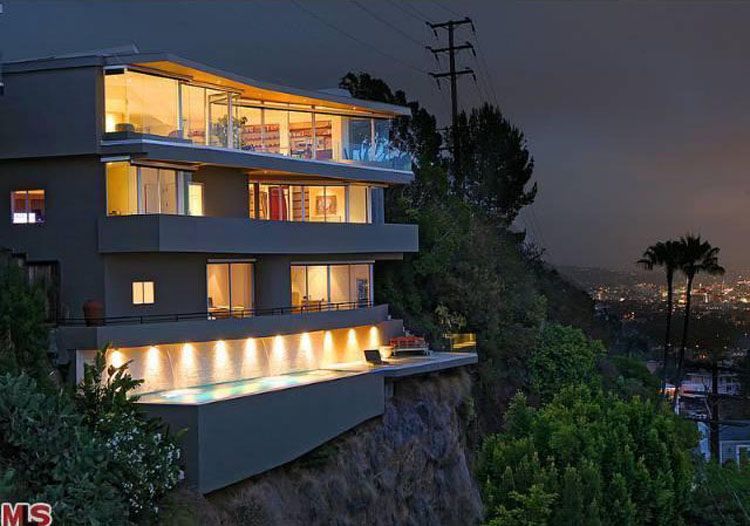 Photo Courtesy of John Aaroe Group
Though it may be too late to hang out with Frank Sinatra and the rest of the Rat Pack, inhabiting 8690 Franklin Avenue in West Hollywood may convince you it is still very much possible to live like them. The simplicity of this
luxury home
's layout and attention to exorbitant detail summon smoke-filled visions of the 50s crooners and their elegant taste in real estate.
Built in 1957 with "unobstructed views from most every window", the living space is open and flows pleasantly from one room to the next, making the view the focal point of the entire home. Located on a hill overlooking the Sunset Strip, it seems that no expense was spared in the creation of this 5,376 square foot abode. Listed by John Aaroe Group at $7,299,000 (although as of today Zillow's "Zestimate" lists its worth at a very low $2,839,522), the home's steep price may have something to do with its European imported flooring, but let's face it, doesn't every home need that?
The property boasts many features. To encourage personal wellness it includes a fitness center, steam room, and sauna. Despite this obvious highlight on an active lifestyle however, it is equipped with electric blinds and automated lighting, as well as a "high-tech" audio/video system just in case you are feeling like a couch potato. The home also includes an indoor BBQ and wet bar, because only the underprivileged put those things outdoors. Each level is complete with its own terrace for drinking a glass of Armand de Brignac or swimming in the waterfall-fed pool and admiring the land and seascape below.
There are four bedrooms and four full baths, with a separate guest apartment, including a secondary kitchen and private entrance. The main house is romantic to the extreme, complete with a spa, two fireplaces, a private terrace and a gourmet kitchen featuring Sub-Zero and Wolf appliances and granite countertops. If anyone were to doubt the degree of swag that this home displays, perhaps the cherry on top is the fact that it showcases the piano which gave rise to many of Dean Martin's songs. Unless of course you aren't a fan... in which case we guess you will just have to schedule a viewing.
For more information, visit
JohnAaroeGroup.com