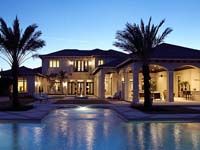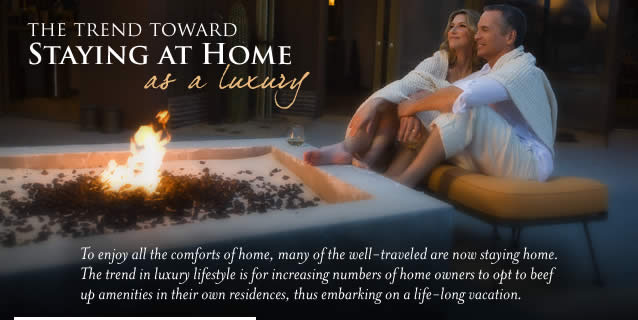 I noticed a spike in consumers' demands for bonus rooms. A popular design is a bonus room which includes a home theater, media center, billiards area complete with a wet bar and a game area. The media center features not one, but three flat screen TVs that transform with the simple push of a button in to a home theater, viewable from anywhere in the room.
Technology is turning homes into life-like systems that are easily programmable and controlled from just about anywhere. Certain systems include integrated wiring that join the home's electrical components to control lighting, a whole-house audio system, security system, pool lighting, the ability to close the garage door, or even to draw a bath -- all done from any control panel placed throughout the home. These high-tech modern marvels can even communicate with home owners via e-mail or text messaging. Some with digital audio packages enable a homeowner to upload their i-Pod play list -- what will they think of next?
Entertaining at home is extremely popular in these luxury homes that also feature large outdoor spaces for days and evenings dining al fresco or enjoying cocktails poolside. Large verandas with fully appointed outdoor kitchens and outdoor fireplaces are what continues to blur the line between indoor and outdoors.
In fact, the American Institute of Architects (AIA) Home Design Survey for the first quarter of 2006 showed an increasing trend in emphasis on outdoor living space, upscale landscaping and outdoor amenities. Kermit Baker, AIA chief economist, says about two-thirds of architects reported an increase in demand for outdoor kitchens, patios and decks.
Media rooms, game rooms and wine cellars are standard interior amenities. Outside, fireplaces, private gardens, fountains and summer kitchens are quickly becoming the must-haves as people rediscover the luxury of staying at home.
By Sondra Guffey
VP Communications
Lakewood Ranch, Florida
www.LakewoodRanch.com
JustLuxe.com Contributor