By Sara Cardoza Aug. 24th, 2012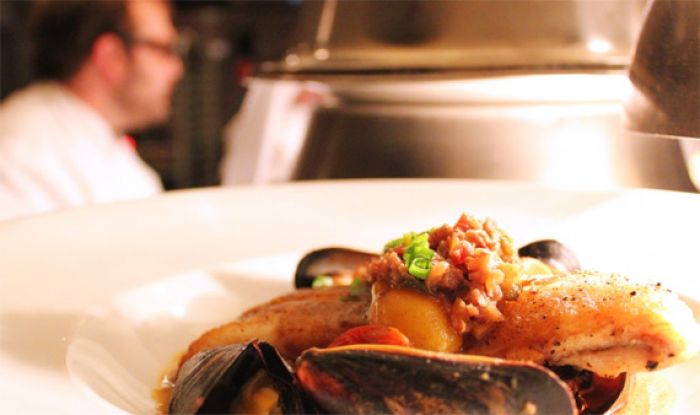 Photo Courtesy of Emeril's New Orleans
Music, culture, and cuisine are some of the staples of a rich New Orleanian experience. Next time you take a trip down South, make sure to savor a true taste of this vibrant city by visiting a few of these
Top Chef
worthy restaurants. French and Cajun inspired cuisine are executed by some of the country's most talented chefs who represent the regional cuisine as well as current innovations in culinary trends.
Gautreau's Restaurant
Located in New Orlean's Uptown neighborhood, Gautreau's is an elegant restaurant with a menu that reflects the local culinary tradition and flavors as well as remaining in line with current food trends. Chef Sue Zemanick, an award finalist for the James Beard "Rising Star Chef" honor as well as
Top Chef Masters
contestant on Bravo, has been in charge of the kitchen at Gautreau as the executive chef since 2005.
Inside Gautreau's, Chef Zemanick ensures the French-inspired New Orleans cuisine stays true to its roots while also elevating its flavor profiles to compete with haute cuisine establishments across the country. Here, you'll find dishes such as Duck Confit with German Potato Salad, served with Pommery mustard crème fraiche, and Foie Gras Torchon with Strawberry Rhubarb Jam.
(Photo Courtesy of Gautreau's Restaurant)
Emeril's New Orleans
Once a warehouse, Emeril's New Orleans is now a rustic dining venue, outfitted with local art, exposed brick, and beautifully decorated wine wall. Emeril, whose name is synonymous with energetic cuisine, opened this eponymous restaurant in the heart of New Orlean's Warehouse District. After training in Paris and London where he refined his mastery of French cooking, Chef Lagasse returned to New Orleans to establish a restaurant of his own.
Lagasse was the Executive Chef of the Commander's Palace for seven years before going on to become the chef-proprietor of 13 restaurants throughout the United States. Emeril's New Orleans, which showcases an array of Chef Lagasse's signature dishes, is led by Chef de Cuisine David Slater, who ensures the fine culinary expectations are constantly maintained. Fine dining and a chic atmosphere makes this a place to see and be seen.
(Photo Courtesy of Emeril's New Orleans)
Latil's Landing Restaurant
Located inside the Houmas House Plantation, which is one of the South's oldest and most elegant plantation estates, the Latil's Landing Restaurant was the setting for the season five
Top Chef
finale. The former sugar plantation is titled the "Crown Jewel of Louisiana's River Road," featuring a beautiful setting of native Cypress trees as well as French and Spanish architecture. The Latil's Landing Restaurant is located inside the property's French House, which was built in 1770.
On Latil's menu, guests will find traditional Creole food such as Rabbit and Andouille Gumbo and Lobster and Creole Tomato Risotto. After dinner, indulge in something sweet, like the Banana Foster Split alongside a Latil's signature dessert cocktail, The French Revolution— with brandy, champagne, grendadine, lime, and a twist of lemon.
(Photo Courtesy of Latil's Landing Restaurant)
Le Meritage
One of the most popular and stylish restaurants in the French Quarter, Le Meritage's menu reflects Chef Michael Farrell's Southern Coastal Cuisine style. Chef Farrell has been featured in several publications, including
Esquire, Life Style, New Orleans Weddings, New Orleans Homes, and Louisiana Cookin
, among others. While dining at Le Meritage, guests can expect each dish to accompany wine pairings from the extensive, internationally procured wine list.
The Pan Roasted Halibut, served with chive potato cake and apple smoked bacon is paired with the Maipe Torrontes from Salta, Argentina while the Foie Gras and Fig Terrine is served with the Domaine du Moulin Cherverny from the Loire Valley in France.
(Photo Courtesy of Emeril's Le Meritage)
Cochon
The definition of traditional Cajun Southern Cuisine, Cochon is set inside a renovated New Orleans warehouse and features a menu that draws nearly all of its ingredients from local farms. Executive Chef Donald Link was honored with a James Beard award for "Best Chef South" in 2007 during the same year Cochon was nominated for "Best New Restaurant." Link was nominated again by the Beard Foundation in 2012 for "Oustanding Chef" while simultaneously honored with the "Best American Cookbook" award for his work on
Real Cajun: Rustic Home Cooking from Donald Link's Louisiana
.
The diverse menu at Cochon includes a tapa-style offering of plates such as smoked duck and tasso gumbo, fried boudin with pickled peppers, as well as rabbit and dumplings among others. The restaurant also offers an extensive drink menu that includes specialty cocktails, bourbons, beer, as well as a wine menu.
(Photo Courtesy of Cochon)
Sara Cardoza
Sara graduated from the University of Mary Washington in Fredericksburg, Virginia with a degree in creative writing. As a military child she spent her childhood living and travelling overseas which shaped her passion for travel, language, food, and intercultural exchange. She has recently joined the JustLuxe editorial team....(Read More)