By Carly Zinderman Jan. 7th, 2011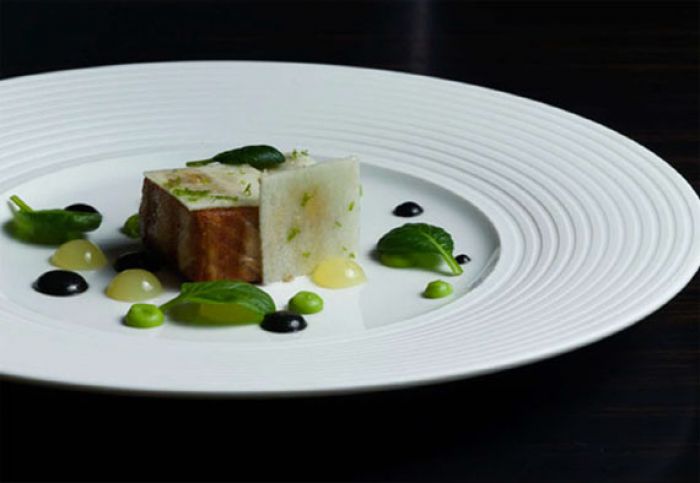 Dining:
L2O is simply phenomenal. Our experience was absolutely flawless. The
food
, the service, the atmosphere and ambience were all purely divine.
A very large, heavy, dark wood door hides the restaurant as you enter a dim lounge. Rich wood and tan marbles make up the main dining area. The table set up is very minimal. No tablecloths, only silverware rests on tan marble. The water glasses have a very distinct blue hue, that add a touch of color to the tablescape. These little, insignificant details really add up and together are what make L2O so memorable. As one of only two restaurants in Chicago to receive three stars from the Michelin Guide, among many other accolades, L2O represents the absolute best Chicago has to offer.

Dinner began with an amuse of dashi gelee and fresh seaweed salad. It was the perfect size, two bites and it was gone. Bright and flavorful, it really got our appetites going. The gelee added a subtle note of texture that really brought out the bold oceany flavor of the seaweed. This was an exceptional start to the brilliant meal.


The first course arrived, consisting of perfectly diced tuna, an olive oil emulsion, foie gras and pickled beets. A layer of dried tomatoes was under the tuna, which looked like an artistic square broken down into smaller, exact squares. Atop the tuna were smaller diced beets precisely spaced from one another. The foie melted instantly upon touching your tongue, leaving just the delicious, rich flavor. This was a fabulous representation of L2O's cuisine; a modern, unique take on the classic combination of tuna and foie gras.

The other first course was a sashimi of hamachi. Bold and refreshing, this was a straightforward dish of perfectly fresh fish, executed with absolute perfection. The creaminess of the hamachi really shined through. The fish was the star, as it should be. The intense emphasis the kitchen places on respecting the integrity of each fish is unparalleled.

For the second course we had seared diver scallops with fume blanc, vanilla and passion fruit. The other dish was a tartare of lamb with ebi shrimp, tarragon and pickled mango. The perfectly seared scallops had a thick, custard-like interior with a crispy exterior. The sauce was a delicate balance of sweet and savory. The passion fruit provided an appropriate amount of acidity while the vanilla gave it an exceptionally unique quality.


The tartare was also a gleaming example of excellence. The warm earthiness of the lamb went flawlessly with the soft silky ebi shrimp. The tarragon acted almost like a salad on top and gave the dish some texture and focus. Again a wonderful example of how pristine ingredients and ideal execution is the cornerstone of L2O's philosophy.

Dinner was progressing very nicely with even, timely, and relaxed pacing. The main courses then arrived. First, was a riff on lobster thermidor. This was a very modern interpretation, but a solidly grounded foundation in the original concept was quite evident. The cuisine at L2O is undoubtedly classic French, with a heavy influence of Asian ingredients and executions. Modern techniques and an avant-garde style are also obvious influences. The lobster thermidor was a great example of this. A light touch of spice and the addition of fresh peaches brought new life to this classic dish.

A superb prime filet with teriyaki sauce, house-made kimchi, glazed baby bok choy, and scallion salad was the other main course. The filet was a tender medium rare, cut extra thick. Some tempura broccoli crowns and green beans provided a nice crunch to the steak. Texture was meticulously thought of in each dish, perhaps even more so because of the intense Asian touches.


Offered as a pre-dessert and transition from savory to sweet was a tiny sake cup filled with a frozen lemon marshmallow. Chocolate is really what I look for in a dessert and am almost always disappointed when there is a non-chocolate dessert. For the very first time, I forgot about chocolate. This marshmallow was indescribably good. It was so smooth and sweet, but the extremely strong lemon flavor cut the sweetness without being remotely overpowering. It was truly a perfectly balanced dish and inconceivably delicious.

The dessert at L20 was the best we had throughout our entire Chicago trip. Chocolate! A lot of chocolate was on the menu. First was caramel and chocolate. A bittersweet chocolate egg filled with a luscious caramel mousse sat on top of a pool of creamy caramel sauce. A caramel foam created a different texture with the same flavor profiles while a coffee snow, a super fine shaved coffee ice, provided a balance to the sweetness of the other components.

The other dessert was called chocolate surprise. A simple square tower of dark chocolate stood alone with just a small dollop of bittersweet ganache and flakes of gold leaf on a large white plate. Upon breaking the shell, several different textures of chocolate mousses were revealed and a layer of almond praline added a nice crunch to the smoothness of the chocolates. Both these dessert were truly splendid, very rich and satisfying.


We thought the excellence had ended but our waiter brought over two little petit fours or mignardises. The first was a perfect square mango marshmallow. Light and fluffy, it was sophisticatedly fun. The second was a raspberry macaroon filled with a bittersweet ganache. Biting into the macaroon was like tasting the freshest, ripest, purest raspberry. It was so fresh and sweet, then the rich chocolaty filling came through and really sent it out of this world.

L2O was spectacular. It is hard to imagine fine dining getting much better than this. Everything was carefully thought out and executed; yet an air of relaxation and Zen-like calm surrounds the entire restaurant. The service was some of the best I have ever had the privilege of experiencing. We had one server, apart from a few minor assists, which was a nice alternative to the usual brigade of waiters one normally finds at fine dining establishments. We had the chance to really get to know our server and connect. He was extremely friendly and personable while still being completely professional and attentive. We could not have asked for a better experience than we had at L2O.

L20 Restaurant
2300 N. Lincoln Park West
Chicago IL 60614
773.868.0002
L20restaurant.com
Carly Zinderman
Carly Zinderman is a Senior Staff Writer for JustLuxe, based just outside of Los Angeles, CA. Since graduating from Occidental College with a degree in English and Comparative Literary Studies, she has written on a variety of topics for books, magazines and online publications, but loves fashion and style best. In her spare time, when she?s not writing, Carly enjoys watching old movies, reading an...(Read More)