Feb. 2nd, 2011
A Presidential Favorite: The Historic Blackstone Hotel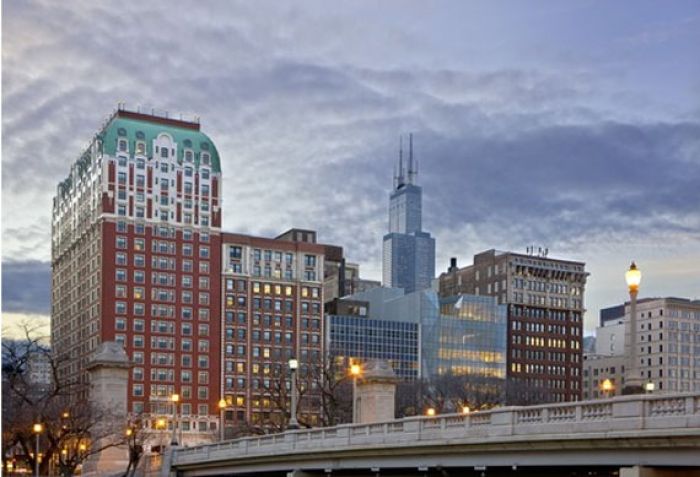 As one of the city's oldest hotels, The Blackstone has a well-earned reputation for being one of the
best hotels
in Chicago. It has played host to everyone from gangsters to presidents to legendary stars of the stage and screen.
Stepping into the lobby at The Blackstone, you'd never know you were in a modern Renaissance Marriot hotel, except for the colorful, swirling carpet. Being in the Blackstone lobby is like going back in time. Renaissance Marriott has taken great pains to restore the hotel to its original Beaux Arts grandeur; complete with stunning light fixtures, wood paneling and special touches like the check-in podiums that allow for more personalized service than the traditional hotel check-in desk.


While the lobby and outside of the building retains its Beaux Arts fixtures, the rest of the hotel has been made contemporary. The Blackstone regularly showcases the works of local artists, accented by touches from the hotel management's own penchant for graffiti. Contemporary furnishings in the rooms are highlighted by contemporary artists, although many of the public rooms have retained their sense of history.

The Blackstone boasts about being the Chicago home of eleven U.S. Presidents. Then there's the stunning suites where they've all relaxed and luxuriated. The Suite of Presidents was where Eisenhower watched his nomination for President in 1952. Countless leaders of the free world have stayed in the room where the political saying, "Smoke-Filled Room" first originated.

Not just the private suites, but many of the hotel's hallways and meeting rooms, have attracted legends. Former Chicago Mayor Richard J. Daley chose this hotel for receptions, ceremonial occasions and his sons' weddings. President Nixon used the facilities for press conferences and official entertaining. Illinois Governor James Thompson's sister held her wedding in the Crystal Ballroom. The notorious Al Capone was often a customer in the hotel barbershop. The movie The Untouchables played up the famous gangster's connection to the historic hotel by filming the banquet scene where Al Capone gets violent towards a guest with a baseball bat.


As part of the hotel's dedication to its political ancestry, each guestroom and suite features "stamp art" by visual satirist Michael Hernandez de Luna. Guestrooms also offer a modern wetbar area, as well as stunning visuals of the surrounding city and nearby lake.

A recent addition to the hotel is Mercat a la Planxa, the restaurant of celebrity chef Jose Garces of The Next Iron Chef. Mercat offers a modern take on Spanish tapas. When my guest and I visited, the place was hopping with visitors and locals enjoying Latin flavor at one of Chicago's most popular bars and restaurants.

Downstairs at Mercat is an intimate bar that blares music, making you want to dance. Up the sleek staircase is a wide-open space filled with tables and servers rushing around with delicious smelling food.

Knowing that it would be our last meal in the Windy City, my dining partner and I loaded up on a variety of selections from the vast menu, which is smartly pared down into categories. To toast our last night, I enjoyed one of the best sangrias I have ever had, while a mojito was a refreshing choice for my companion.


For a starter, we selected a trio of cured meats that were accompanied by mustard, cornichons and pickled peppers. We also enjoyed a selection of cheeses, each with a special dipping sauce to enhance their flavors.

We then moved on to the tapas, which is a stunningly wide array of small bites. We chose olives, fried peppers, garlic shrimp and decadent dates. So that we wouldn't miss a bite of deliciousness, we also had a flatbread topped with tapas.

For our main plates, we shared a tender Imperial Wagyu flat iron steak and a Colorado rack of lamb, which were unevenly cut, but very well marinated.

Despite being full, we finished our meal by indulging in two of the desserts we had seen floating around all night. First up was a riff on arroz con leche; ice cream served in a tuile atop a chocolate pudding. The favorite dessert at Mercat seemed to be the croquetas de xocolata, a smart, chocolatey take on churros. Fried chocolate donuts accompanied by merigue-like flavored marshmallows for an unbelievably decadent finish. It was easy to taste why everyone in the restaurant seemed to be a fan. What's not to like about fried chocolate?

Blackstone Chicago Hotel
636 South Michigan Ave.
Chicago, Illinois 60605
www.marriott.com
.

Chicago Map

.
.

Luxury Hotels in Chicago

.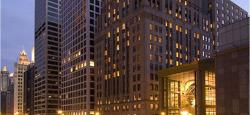 Conrad Chicago
Romantic, Business, Family Friendly, Pet Friendly, Tourism, Nightlife, Culinary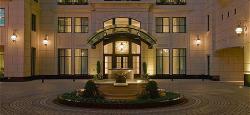 Elysian
Romantic, Business, Spa, Pet Friendly, Wedding, Resort, Luxe Superior