By Susan Kime Apr. 12th, 2011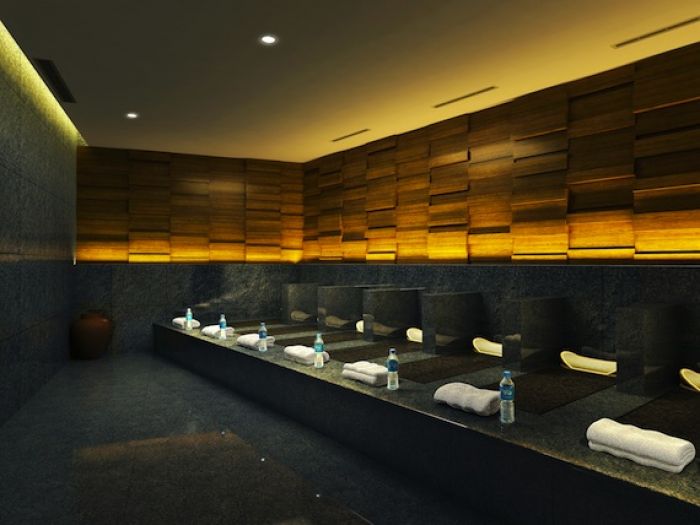 Photo Courtesy of the Spa at ARIA
Whether a visitor sees it immediately or not, the identity of Las Vegas is slowly evolving. Boomers may always see it as a gaming paradise, a place where secrets and made and kept, where excess in all forms is available and most of the time, accepted.
But there is another side to Las Vegas that Gen X/Yers and Millennials are also coming to know: the true resort side where gaming is a part of, but not the whole, experience. Arguably, CityCenter, the enclave of exceptional mixed-use architecture off the Las Vegas Strip, that includes the AriaLasVegas.Aria Resort And Casino, the non-gaming Mandarin Oriental Hotel, the Veer Towers and the Vdara Hotel And Spa, has aided in this perceptual shift. Though Las Vegas is still considered a playground, the meaning of the word "play" is encompassing much more than just rolling the dice.

Part of this perceptual shift deals with the celebrities and shows available, the exceptional golf that can be accessed at high-end golf courses, including Shadow Creek, one of the most elite in the country, the high-end shopping experiences at Crystals, CityCenter, and then, the unique spa therapies/experiences available at some of CityCenter hotels.

Recently, I was fortunate enough to experience a few of the most unique. Here is a list I tried during last week's travels to Las Vegas.

ARIA Resort And Casino


The Thai Poultice

The steamed poultices are made from lemongrass, ginger and par extracts, put into a soft cloth and then rubbed on the body. In addition, is a full body oil massage. It is enormously relaxing and you may want to keep the poultices afterwards.

The Ganbanyoku Beds
The Spa at ARIA is the only place in the country to offer these Japanese heated stone beds. Ganbanyoku means "stone bath" or "stone sauna" in Japanese and it's a practice that originated in Thailand. These stone beds are made of tenshoh seki or black silica and black silica lava rock. These beds help with increased circulation, accelerated metabolism, soothing muscles and the elimination of toxins from the body.
The Shio Salt Room.
It is a salt-infused room, featuring a wall of illuminated salt bricks. Breathing deeply helps upper respiratory problems. Lounge chairs provide vibration therapy in rhythm to soft music.
The Red Carpet Facial
It was penetrating and moisturizing. Even now, five days afterward, my face feels very hydrated.
There are multiple, unusual therapies I did not have time to try, but sounded very interesting: The Thai Clay Aromatherapy Wrap, The Thai Yoga Massage, The Asian Bathhouse Ritual With YogurtMask and Pressure Point Facial Massage, to name only a few.
The Salt Scrub With Italian Blood Orange Flower Ritual
The salt scrub was rubbed into my skin with small salt crystals, allowing for a stimulating and exfoliating treatment. My massage therapist told me it was meant to get rid of all that awful winter skin. After I took a shower to remove the salt, I went back to the table and had a wonderful orange scented oil massage. My skin did feel much softer. All that winter skin, down the drain!
The other Vdara unique therapies I will try next time are: the Juniper and Cypress Detoxifying Massage, the Arnica Muscle Repair Massage and the Peppermint And Tee Tree Reflexology treatment.
The Mandarin Oriental is known for its unusual spa experiences, many of which are called Time Rituals. You schedule a time and then you decide what therapies would best fit the time. You can have a time ritual from two to six hours. In that time, I participated in a classic Hammam and a Rhassoul.
The Hammam is a heated, steam room experience with a loofah exfoliation scrub. Also included are personal experience showers that can cool as much as you'd want.
The Rhassoul is a Moroccan based experience, where I applied therapeutic mud to much of my body and face. I then went into a room heated to 100 degrees, and the mud is allowed to dry. Then, aromatic steam is released, allowing mud to moisten again, after which I took a rain shower and had a head and foot massage.
Also at the Spa, are Tepedarium Chairs, contoured chairs that provide some warmth, but not an intense kind of heat. The Laconium Room, however, is more intense. Kept at 140̊F, with slight humidity, it is a heated relaxation room, with contoured bench-style seating, floors and ceilings are all radiated for a therapeutic heat experience.
Susan Kime
Susan Kime's career combines publishing, journalism and editing. She was the Destination Club/Fractional Update Editor for Elite Traveler, and senior club news correspondent for The Robb Report's Vacation Homes. Her work has been published in Stratos, Luxury Living, European CEO, The London Telegraph, Caviar Affair, ARDA Developments, and Luxist/AOL. She was the Editor-in-Chief of Travel Conno...(Read More)