By Susan Kime Jul. 1st, 2011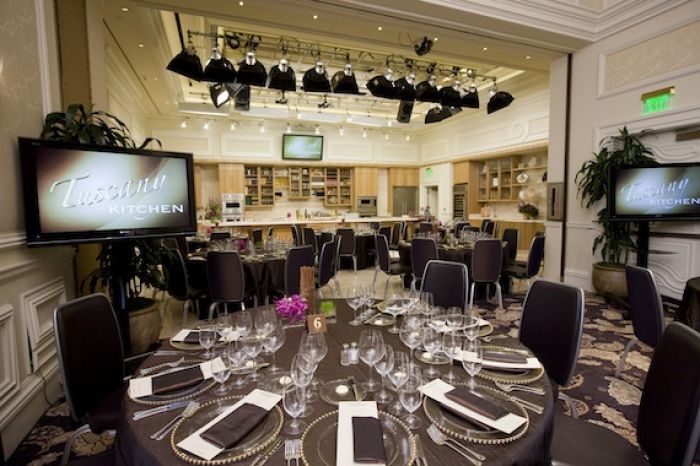 Photo Courtesy of Tuscany Kitchen/MGM Resorts
I have written about events in
Las Vegas
before, from philanthropic to sporting events, all having a distinctly educational, yet sensuous component, and all often over-the-top.
I have also recently written about the curated experience trend in high-end hotels and resorts: those unique experiences available to hotel guests that are underscored by their passionate interests. And, I have discovered that Las Vegas is one of the places that combines the curated with the impassioned, with the Bellagio's Epicurean Epicenter Series a significant example of this pairing.

Bellagio, recipient of 10 consecutive AAA Five Diamond Awards, recently revealed its 2011 schedule for its Epicurean Epicenter Series. Here, guests observe talented chefs prepare their masterpieces, discuss their culinary processes, and then dine with wine pairings, from some of the world's finest vintages. The series of culinary events feature Bellagio chefs Julian Serrano, Akira Back, Martin Heierling and Edmund Wong along with rare vintages and varietals from wineries that include Williams Selyem, Husic Vineyards and Araujo Estate.


"The Epicurean Epicenter Series offers the exemplary experiences Bellagio is known for," said Ana Marie Mormando, vice president of food and beverage at Bellagio. "We have brought together the finest chefs and wine labels in the world, and provide our guests with once-in-a-lifetime experiences that entertain, educate, and enrich their culinary appetites."

Some events in the series have already taken place, including unusual Japanese culinary experiences from Yellowtail's Chef Akira Back, Chef Martin Heierling of Sensi, Philip Lo, Executive Chef of Jasmine at Bellagio and Bellagio Executive Chef, Edmund Wong, as well as culinary conversations with top Las Vegas food authors and critics.

The June 2011 food and wine pairing included Le Cirque's executive chef Gregory Pugin, who paired his meals with the handcrafted Pinot Noir and Chardonnay wines from the Williams Selyem vineyard located in the Russian River Valley. Here are a few of the pairings:
Canapés et Hors-d'oeuvre Assortis "Le Cirque" paired with 2005 Blanc de Noir Brut Magnum


Langoustines au Caviar - Citrus Marinated New Zealand Langoustines, Osetra Caviar, Apple & Vodka Gelée with 2005 Hawk Hill Chardonnay


Le Flétan d'Alaska - Potato Crusted Halibut, Celery Root & Mustard of Meaux Purée, Sauce Vieux Balsamique with 2007 Westside Road Neighbors Pinot Noir


L'Agneau Du Colorado - Espelette Crusted Lamb Chop, Taggiasche Olive Panisse, Piquillo Purée, Farcie of Spring Vegetables with 2004 Rochioli Vineyard Pinot Noir and 2004 Hirsch Vineyard Pinot Noir


Les Fromages - L'Epoisse, Vieux Comté, Saint Marcellin with 1999 Allen Vineyard Pinot Noir


Pot De Crème Au Chocolat - Chocolate Pot de Crème, Cardamom Emulsion, Pop Rocks Marshmallows
This fall, the pairings continue: In September, Chardonnay and Cabernet Sauvignon wines of Husic Vineyards will be paired with cuisine prepared by Prime Steakhouse Executive Chef Sean Griffin. And in November, Araujo Estate wines and Picasso's Julian Serrano (pictured below) take center stage for the final Tuscany Kitchen event of the year on hand also, will be Master Sommelier and Director of Wine at Bellagio Jason Smith along with Daphne and Bart Araujo, owners of Araujo Estate.


Master Sommelier and Director of Wine at Bellagio Jason Smith has been hosting these pairing events. As both educator and sommelier, he said, "We have seen exceptional moments for our guests as we educate them on the meanings behind each pairing. But another great pairing example is our Art And Wine Pairings the second Wednesday of every month at the Bellagio Gallery of Fine Arts. The Director of the Gallery, Tarissa Tiberti, and I, host an event that features art from the current exhibit called A Sense Of Place: Landscapes From Monet To Hockney. We pair the appropriate spirits - from Champagne to tequila - with the gallery art, and then have interactive conversations relating the tastes, colors and themes of the wine and the art."



In all of these culinary and wine pairings, the chefs and sommeliers are available to discuss their techniques, food ingredients and cooking processes with the guests.

The 1,170-square-foot Tuscany Kitchen where most of these experiences take place, is also a unique state of the art demo kitchen. Three cameras, positioned above the prep stations and stove tops, capture shots of the chefs at work and broadcast them over 60-inch plasma screens mounted above the cooking area for easy viewing. This, paired with the opportunity to interact with Bellagio's culinary talent, create a singular curated environment, for a fine dining and wine pairing experience.
Susan Kime
Susan Kime's career combines publishing, journalism and editing. She was the Destination Club/Fractional Update Editor for Elite Traveler, and senior club news correspondent for The Robb Report's Vacation Homes. Her work has been published in Stratos, Luxury Living, European CEO, The London Telegraph, Caviar Affair, ARDA Developments, and Luxist/AOL. She was the Editor-in-Chief of Travel Conno...(Read More)