Dec. 6th, 2010
Tuesday Fashion Nights at Four Seasons Hotel Los Angeles in December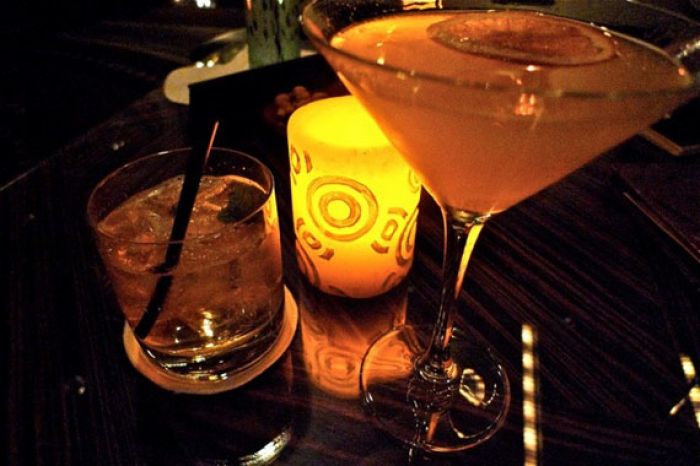 Photo Credit: Julie Wolfson
Specialty cocktails warm up December nights at the Four Seasons' Fashion Tuesday Nights
Los Angeles Nightlife:
The only thing we like better than upscale drinking dens...are upscale drinking dens where we can also get our holiday
shopping
out of the way. That's why, on Tuesdays in December, you'll find us checking out the season's most stylish fashions at
Windows Lounge
at the
Four Seasons Los Angeles
during the hotel's series of Fashion Nights.
The three-night series began last week, and will run December 7 and 14 as well, as a way to promote the tony boutiques on the nearby shopper's paradise of Robertson Boulevard, just blocks from the newly renovated (to the tune of $33 million!) Four Seasons.

Each Tuesday from 7:00-11:00pm in the Windows Lounge just off the main lobby, guests will be treated to live musical performances, prize drawings, cocktail specials, and models showing off the wares of some of the most sought-after labels on Robertson: Rock & Republic, Intermix and Ted Baker.
The three-night series started last week with an evening of Rock & Republic that saw jeans-clad models showing off the label's new line of footwear-some of the ladies were even carrying around silver trays with shoes on them just to show off the fancy handiwork. Or is it footwork?
In any case, the cocktail specials that evening (which go for a mere $10, a pretty big discount off the normal tab here) included the Four Rocks with bourbon, maraschino liqueur and orange garnished with mixed berries and mint; and the Lady Marmalade with gin, cloves, blood orange marmalade, fresh orange and lemon juice. No word yet on what the cocktails will be for the Intermix and Ted Baker events in the coming weeks, but we hear that the Intermix one will feature a drink based on VeeV ašai liquor, and that the Ted Baker one will have a specialty Ted-tini.

There are also prizes awarded at each of the events including gift certificate giveaways for the "Best Dressed Person," to be chosen by a secret guest judge, as well as a drawing for a complimentary brunch for four people at the Four Seasons. The hotel's signature buffet spread (though feast seems more appropriate) is laid out each Sunday in Windows Lounge and the hotel's specialty destination restaurant, Culina, which was honored as one of Esquire's "Best New Restaurants of 2010."
While browsing and boozing, guests are also treated to live music. Last Tuesday's event was swinging to the tunes of crooner Mark Castrillon, while songstress Robin Simone will be serenading the well-heeled crowd on December 7. The Ted Baker event on December 14 will feature a performance by David Aldo.
Also highlighting the hotel's connection to the neighborhood is a special service it offers where guests who wish to can take one of the property's Rolls Royce Phantoms over to nearby Robertson Boulevard to shop and eat. It's not far, but it could really come in handy for the ride back. Especially if you're loaded down with shopping bags.
Four Seasons Los Angeles
300 South Doheny Drive
Los Angeles, CA 90048
(310) 273-2222
fourseasons.com/losangeles
.

Los Angeles Map

.
.

Luxury Hotels in Los Angeles

.






Eric Rosen

Eric Rosen lives in Los Angeles and writes about food, wine, travel and adventure... usually in some combination of the four. He regularly contributes to Los Angeles...