By Eric Rosen Sep. 7th, 2011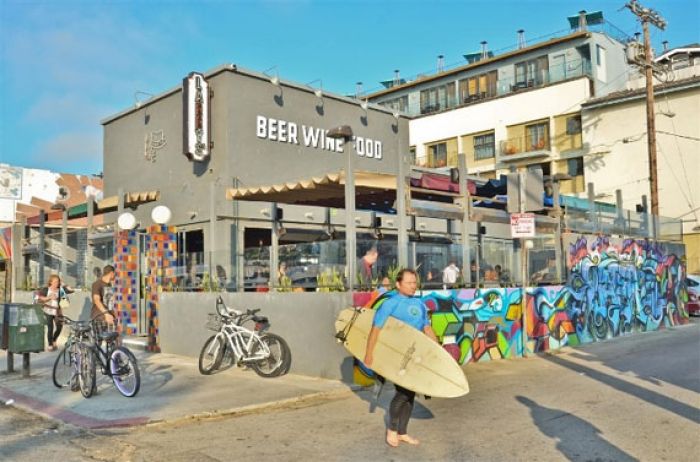 Photo Credit: Dustin Downing
There's a slew of new and planned restaurant openings has LA's foodies buzzing and planning out a full calendar of meals. In fact, there are so many, we're actually going to have to give you our roundup of the most recent (and soon-to-come) restaurants in Los Angeles in two bites, so to speak. So take a look, then come back for round two later in the week. Then start making your reservations!
FOH/BOH3, a new restaurant management company from LA fixtures, wine director David Haskell, and husband-wife chef duo Farid Zadi and Susan Park, has already hosted a few pop-up dinners around Los Angeles, but now the trio are planning the imminent opening of their new restaurant concept, Eat.Good.Clean.Food (no, that's not a typo, it's a credo) in Culver City's former Cake Diva Space. The cozy mom-and-pop-style restaurant portion of the project will serve American-French brasserie dishes, while those on the go can stop in the retail and prepared foods section (and eventual cooking school demo area) to pick up charcuterie and other sundries. Plan on lunch there this month, then dinner or breakfast when they start serving those in October.
9262 Venice Blvd.
Culver City, CA 90232
We already head into Jeff Cerciello's nostalgic little bakery at the Brentwood Country Mart for pastries on the go and delectable breakfast and lunch items, but starting this month, FarmShop begins dinner service. The menu will change daily to utilize the freshest seasonal ingredients and locally-sourced proteins, and the meal will be either three or four courses served family style. On a given evening, diners can expect to find dishes like heirloom melon and feta salad, spiced leg of lamb with preserved lemon, apricots and black olives as a main course, and a dessert of buttermilk panna cotta with blackberries. Every Sunday night, however, will feature the famous fried chicken that Cerciello developed while working at Thomas Keller's Ad Hoc in Napa.
225 26th St., Suite 25
Santa Monica, CA 90402
(310) 566-2400
Fat Spoon
When Michael Cadenas opened Lazy Ox Canteen in downtown late in 2009, we loved the playful and mind-bogglingly international menu of small plates. Then came the more staid Japanese izakaya-style cuisine at his second venture in Little Tokyo, Toranoko. Now comes the third, Fat Spoon, which gets back to that playful, tongue-in-cheek (so to speak) tone with a menu that melds Japanese, Indian, Italian and a host of other cuisines into a single menu of dishes like deep-fried Kurobuta pork loin curry, salted cod roe-crusted tarako with cream, dried seaweed and shiso leaf, and the house signature: mini corn dogs made with Japanese sausage with a side of mustard. Just add a bottle of cold Japanese beer for the final touch on a delicious evening.
329 E. 1st St.
Los Angeles, CA
(213) 621-7890
Fonuts
We've put men on the moon, conquered the sound barrier and created the iPhone, so it was only a matter of time before mankind discovered the secret to making healthy donuts. Well, not exactly healthy, but not unhealthy—the donuts at Fonuts, a new donut bakery on West 3rd Street from Pastry Chef Waylynn Lucas (Bazaar at SLS) and partner Nancy Truman that pays tribute to the classic American coffee and donut shop, uses a combination of steaming and baking at high heat to replicate the fluffy, cakey texture of donuts without actually frying them, and presents them in imaginative flavors like chocolate banana, peanut butter and jelly, maple bacon and chorizo cheese. Many are even vegan or wheat-free. We've already tried a few (dozen!) and keep going back for more.
8104 West 3rd St.
Los Angeles, CA 90048
(323) 592-3975
Livello Preview at Breadbar
While the new restaurant at L'Ermitage Beverly Hills won't be open until an unspecified date later this fall, Chef Joseph Elevado will be presenting a one-night-only six-course showcase tasting menu of Italian-Asian specialties from the upcoming Livello at Breadbar Century City . Diners can plan on enjoying tantalizing teasers like short rib Bolognese with locatelli, "smoked" salmon sashimi and bokin ikura, along with cocktail pairings from L'Ermitage Beverage Manager Stephanie Brown, like the Off the Vine cocktail of bourbon, heirloom tomato, lemon, agave and basil. The anticipation is killing us.
10250 Santa Monica Blvd., R-2
Los Angeles, CA 90067
(310) 277-3770
Larry's
We love the market-fresh British pub-inspired fare at Chef Brendan Collins' Waterloo & City in Culver City, so when we next head to the Westside, you can bet we'll be stopping by the chef's new restaurant in Venice, Larry's. Opened in conjunction with the owners of the nearby Hotel Erwin, Larry's will also be a cheeky English take on California cuisine with a focus on fresh seafood in dishes like local halibut and scallop ceviche with nanjim dressing, cucumber cilantro and red onion; as well as inventive pizzas like the one with Brussels sprouts, bacon, parmesan and chili vinegar. Perfect for enjoying with any of the 26 beers on tap, or a glass from the globe-spanning selection of wines. We hear the brunch menu will be debuting any moment as well. The restaurant is named after local artist Larry Bell, and features his artworks as well as those of other Venice artists, so be sure to have a look around during your meal.
24 Windward Ave.
Venice, CA 90291
(310) 399-2700
Eric Rosen
Eric Rosen lives in Los Angeles and writes about food, wine, travel and adventure... usually in some combination of the four. He regularly contributes to Los Angeles Confidential Magazine, Condé Nast's HotelChatter and Jaunted, TravelAge West, Palate Press, Frontiers, Edge and Wandermelon. His work has also appeared in the L.A. Times. When he is not exploring the Los Angeles dining scene, Er...(Read More)