By Mark Alyn Oct. 8th, 2010
New York Restaurants:
There is nothing as exciting as the opening night of a play. The glitz, glamour and excitement are everywhere!
Restaurants
are theater as well, offering a combination of sensations for the eyes, ears and mouth.
Before-and after-theater places are common in the Broadway Times Square area of
Manhattan
. The new Cityhouse is set above the rest with an outstanding menu, warm comfortable atmosphere and gracious wait staff.
The Park Central Hotel has been an area mainstay for many years. Built in the late 1920s, the hotel has been home to many personalities, including Eleanor Roosevelt who maintained a suite there. Today, television, film and theater people stay because of the proximity to Broadway. Everything from parties to casting sessions are held here regularly, so you never know what celebrity you might run into.

Cityhouse is a plush contemporary steakhouse featuring USDA prime beef and a mix of modern American classic dishes. Décor is relaxed with elegant overtones of gold and red.

Chef Fabio Capparelli is an up-and-coming chef, with a talent yet to be fully developed. Opening nights are highly stressful, full of unknown kitchen imps, providing an endless array of mischief and problems. From the dining side, I actually didn't see any mishaps in the kitchen and that's points for Capparelli.


Dinner began with an "amuse bouche," a small bite appetizer prepared at the chef's discretion. Opening night, it was a hamachi tartare with citrus ponzu, nori, salmon roe and kabayaki sauce. The obvious Asian influence with citrus overtones was very pleasing. It left me not only wanting more, but curious about the dining adventure to come.

The hamachi was paired with, what else, a sake. A surprise is the "g joy junkman ganja geisha" sake. This is American sake, brewed (just like beer), in Oregon. Fruity and fresh, it was a nice complement to the tuna, with a nice alcohol bite as a finish.

I selected pan-seared foie gras as my appetizer. The pomegranate balsamic reduction had just the right amount of sweet, while cutting the fat of the foie gras with the vinegar. Purple sweet potato and candied kumquats dressed the plate with splashes of taste and color, for a tasty version of the classic dish, which was also my favorite of the night.

From the Au Bon Climat winery, a Santa Barbara chardonnay accompanied the liver. Chardonnay's are not usually food friendly, especially those made in the California "big oak" style. While lighter than many other California Chards, fruit forward and a touch of sweet, I would have preferred a slightly sweeter wine with the foie gras. The sake served with the amuse bouche was actually very good with this dish.

From another region of Asia, comes Thai-inspired braised short ribs. Short ribs have become a staple on menus in the last few years. Not many that make them really know how to prepare them. Chef Capparelli does it again.

Tender, flavorful with the right touch of spices to bring out the flavor of the meat. The crispy summer mushrooms served with the short ribs were amazing. This unique preparation is a palate pleaser. The crispy earthiness of the mushrooms was a nice juxtaposition with the sweet sauce. A rich, extra creamy, cheesy potatoes au gratin completes the presentation.

A glass of Grgich Hills cabernet sauvignon paired nicely with the ribs. It's a nicely balanced cab with lush berries and a smooth finish.

The Colorado rack of lamb came to the table as ordered: rare. Tender, with the characteristic full taste of lamb that I really enjoy. The demi glace features a Shiraz and was excellent. It's rich and flavorful, with a deep color and deep taste. This is yet another classic dish with a touch of Capparelli. Fava beans and summer grits joined the lamb on the plate.

The lamb is paired with a Rodney Strong reserve Russian River Valley pinot noir. I've been drinking more pinots lately than cabs. Pinots are less robust than cabs and I like that, especially with food, more than I used to. This pinot just seems to go with food, especially something bold like lamb. This is an excellent coupling of food and drink.


Now to the main attraction of the evening: dessert. I never was a big dessert eater before I was married. I preferred savory tastes to sweet. Now a meal is not complete without a sweet little something. And for the best of both worlds, a dark chocolate anything is what I usually crave.

Passing on the interesting sounding berry creations, we welcomed the warm chocolate lava cake with candied oranges and dark rum caramel. Dark, with a touch of bitter and sweet, it blends well with the candied oranges. The rum caramel was a nice contrast to the cake. I love the combination of orange and chocolate so this was a great ending to a wonderful meal.

In real estate, location is key. With the close proximity to Times Square, Broadway, Carnegie Hall, Central Park, the multitude of museums and the entire city that never sleeps, Cityhouse is a great location. With the work of their young upcoming chef and a good wait staff; this is going to be one of the area's places to dine.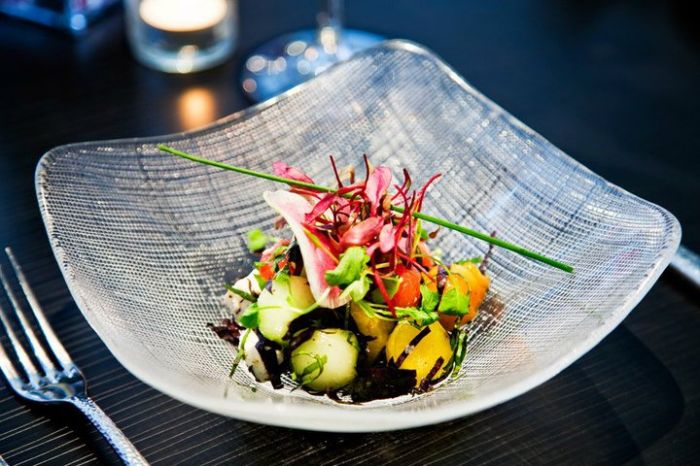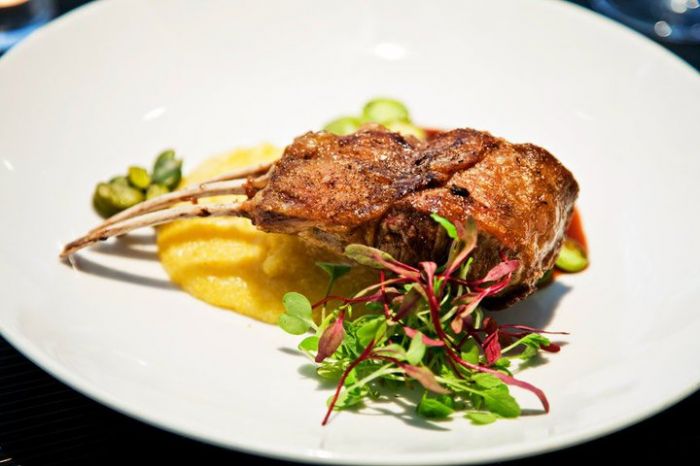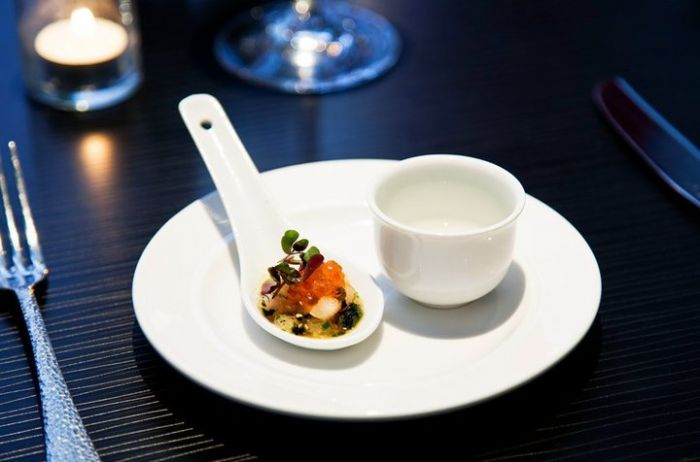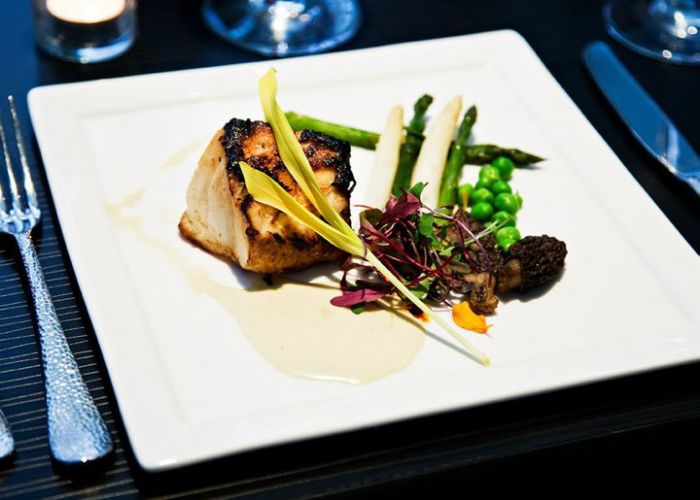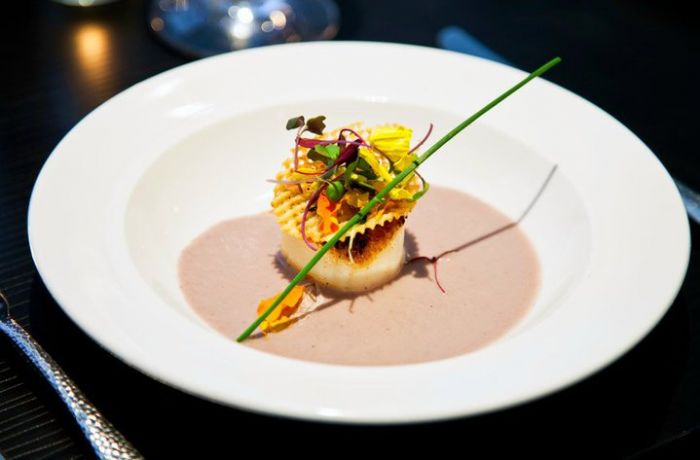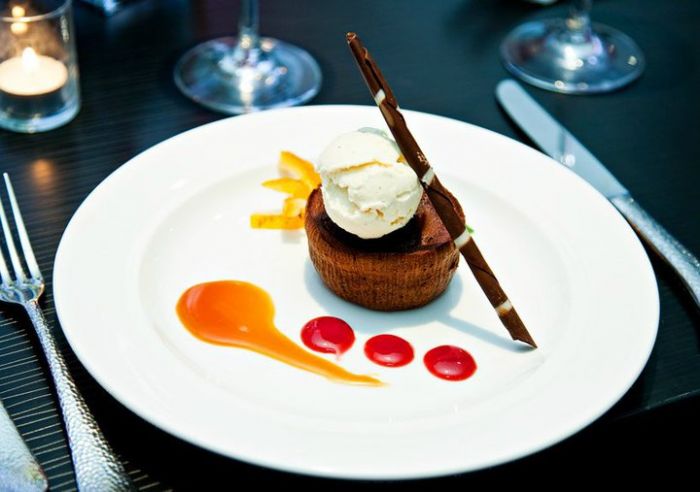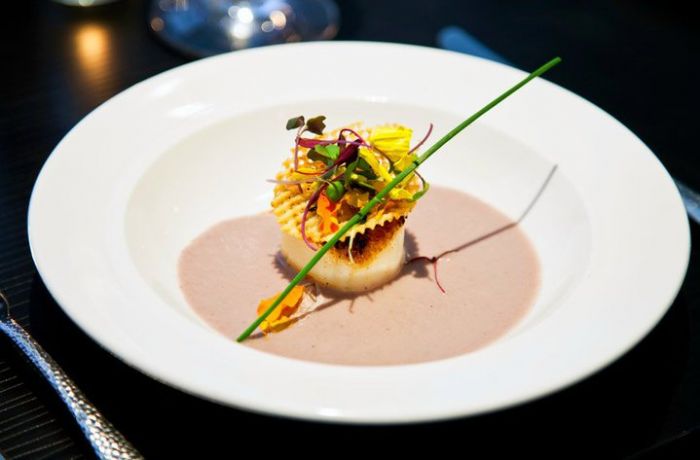 Mark Alyn
As a host, reporter and writer Mark has talked about and scribbled about food, wine and travel. He has appeared on TV, the Internet and radio talking about trends in these fields. And he has written numerous features about them as well. Mark was one of the first to feature food topics on the radio in Los Angeles and Memphis. He has interview world-class chefs (His favorite being the late Jul...(Read More)