By Eric Rosen May. 9th, 2011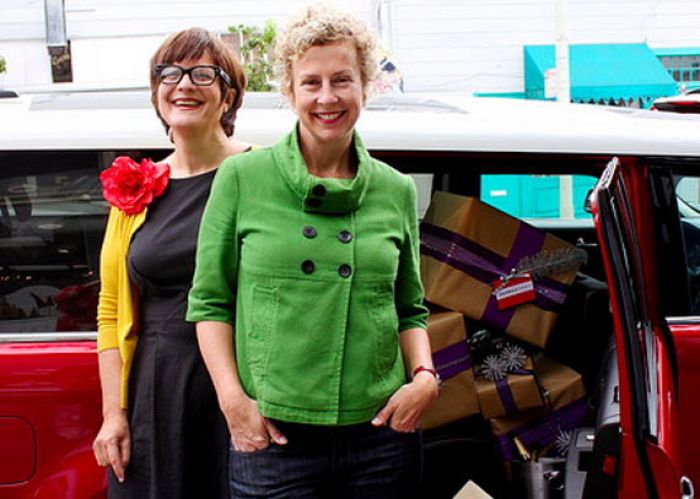 Photo Courtesy of Carried Away
San Francisco
is one of our all-time favorite cities. We love our secret watering holes, darling cafes, hidden specialty shops and convention-challenging galleries. We know its streets like the back of our hand. Or so we thought, until we took a tour with the ladies of Carried Away.
Dianne Admire and Vikki Garrod met over fifteen years ago while working together in advertising. They discovered a shared love of their adopted city (Dianne's from the Midwest originally and Vikki is Australian) thanks to its incredible and ever-changing trove of foodie delights, provocative art galleries and
bustling boutiques
.
Eventually, they left their ad jobs and started Carried Away, a bespoke touring company that allows clients to create private, customized tours according to their interests, and that caters to everyone from first-time visitors to San Francisco habitués. Whoever you are, the ladies say that they "want you to have the best day ever."
And based on our recent experience, they hit the mark. Though clients have the option of half-day tours, we opted for a full day. Having been to the city dozens of times, and being foodies, our tour turned into a delicious, day-long culinary adventure called the "Snacker's Delight." It was basically a progressive lunch with snacks from all over the city, all of which "have been tested rigorously by the ladies of Carried Away"...with a few stops for stunning bay views along the way.
The ladies picked us up first thing in the morning from our Union Square hotel in their signature red Ford Flex. We went over the day's itinerary, which they had mapped out for us, with all the stops demarcated along the way, as well as background information on each place.
Our visits included one for coffee and homemade caramel candies at a tiny hipster-meets-Southern-Gothic storefront called Hooker's Sweet Treats; a stop by one of the country's best-known food-focused bookshops, Omnivore Books; lunch at the then brand-new Zero Zero Pizzeria; and a late-afternoon cocktail (hey, we were on vacation!) at the Barbary Coast-style bar, Comstock Saloon.
All the while, Vikki and Dianne were telling us about other points of interest, giving us background on the spots we would visit, telling us about new and upcoming events in the city, and generally being some of the best conversationalists we've come across in quite a while. Next time, we're definitely going to try out their new urban wine trail tour - forget trekking out to Napa for the day when we can just
stay in the city to swirl and sip.
It's not all about food and drink with Dianne and Vikki, though. As we mentioned, they custom-tailor each tour to each client or group of up to just four people according to their interests. If you like shopping, for instance, the ladies can craft a retail therapy session in high-end shops to the boutiques of Japantown to leave you looking good and stocked up on one-of-a-kind items. Lately they've been escorting guests to stores like In Fiore, an old-fashioned apothecary that hand-blends potions and oils from flowers; an art gallery with rare and hard-to-find pieces called Electric Works; and Revolver, a unique, high-end men's and women's clothing store that also stocks vintage housewares.
Those looking to give their someone special a day to remember can opt for "The Finer Things" outing, including
wine-tasting
, nibbles at two fabulous restaurants, perusing art galleries with a glass of Champagne in hand, and a spa treatment at Cavallo Point in Sausalito. "You arrive, change, sink into the heated meditation pool outside under the eucalyptus trees, steam up in the sauna, enjoy a treatment, cozy up by the fireplace, sip a custom tea blend..." effuses Vikki. Sounds like the perfect end to a busy day to us.
Carried Away has even expanded beyond its traditional purview into the farther reaches of the bay, taking clients into the communities on the other side of the bridges to explore their hidden gems as well, like walking through the coastal redwoods and kayaking the beaches around Marin County.
The itineraries they put together are so unique, varied and insightful, though, that there's still plenty for visitors and San Francisco residents alike to discover with the ladies of Carried Away. Tours start at $100 per hour with a three-hour minimum for up to four people.
Carried Away
415.786.2424
www.CarriedAwaySF.com
Eric Rosen
Eric Rosen lives in Los Angeles and writes about food, wine, travel and adventure... usually in some combination of the four. He regularly contributes to Los Angeles Confidential Magazine, Condé Nast's HotelChatter and Jaunted, TravelAge West, Palate Press, Frontiers, Edge and Wandermelon. His work has also appeared in the L.A. Times. When he is not exploring the Los Angeles dining scene, Er...(Read More)