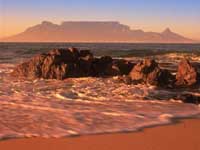 Overview:
South Africa has been billed as 'a world in one country', and any visitor who has experienced its delights, from the jumble of Johannesburg, the northern city built on gold mines, to the sophistication of Cape Town in the south, to the sunny laid back beaches of Durban in the east, is bound to agree.
Throughout the second half of the 20th century South Africa was regarded by most of the world as a pariah state where the ruling white minority passed a range of draconian laws to subdue and enslave the black majority. All this changed in 1994 with the release from prison of world-renowned freedom fighter and icon of the oppressed, Nelson Mandela. A new age of democracy was ushered in, and South Africa was suddenly revealed to the world in her beautiful true colours: a rainbow nation with a kaleidoscope of cultures and a host of attractions to enthral and entrance visitors.
A decade later tourists are flocking to sunny South Africa in droves, particularly to the Western Cape with its magnificent scenery, beautiful beaches, majestic mountains and green winelands.
The Republic, comprising the southern tip of Africa and surrounded on three sides by the Atlantic and Indian Oceans, offers a taste of the African experience with the chance to visit traditional tribal villages, game reserves and sprawling townships. At the same time it also offers all the pleasures of a first world holiday experience, with luxury hotels, sophisticated shopping, exciting theme parks and clean beaches. Have breakfast in a New York-style deli; lunch in an African shebeen; cocktails on a sunset cruise; and dine in style in a fine British colonial restaurant. This is all possible in a South African city.
It is not only cultural diversity that makes South Africa magical. The country has a wealth of animal and plant life scattered across its varied climactic zones from desert to snow-covered mountains, forests to grasslands and mangrove swamps. Historically, too, there is plenty to discover, from the fossils of ancient ho