8 Great Luxury Cell Phone Selections
Jul. 15th, 2010 | Comments 0 | Make a Comment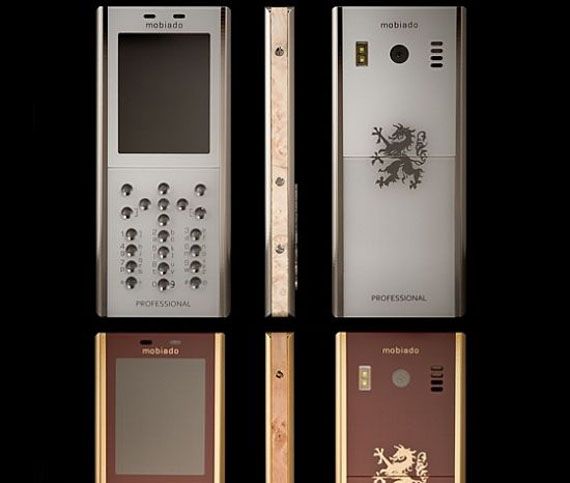 Electronics:
Are luxury cell phones status symbols, personal communications devices, or just glitzy gadgetry gone wild? The technology packed into these extraordinary crafted handheld bejeweled devices is intriguing to say the least. Aside from being high-quality
mobile phones
, the units boast Internet access, music players, video players, cameras, scratch-free touch screens, GPS systems, and more. These units are then either dipped in gold or platinum or made from a super-stainless steel alloy or titanium and showered with diamonds and other precious stones to boot.
The influx of designers teaming with cell phone manufacturers to launch limited-edition luxury cell phones has created a niche market that is expanding. Renowned watchmakers TAG Hauer and Ulysse Nardin now have luxury cell phones on their catalog of products. Vertu, a division of Nokia and a pioneer in the making of high-end cell phones, recently celebrated the opening of its first U.S. store in Beverly Hills.

Say hello to eight great luxury phone selections!

1. Ulysse Nardin Chairman, Diamond Edition

From appearance to inners, quality permeates throughout this handheld multidimensional personal entertainment center. It features a 3.2- inch scratch-resistant sapphire touch-screen, a high-definition video playback, 32 gigabytes of internal memory and an 8-megapixel camera. The Chairman also surfs the seas of the WWW on the bleeding-edge technology of Google's Android mobile operating system. It also has thumb print recognition and 3G capabilities.

Read more

2. Versace Unique

The Versace Unique has a 3-inch scratch-resistant sapphire touch screen. The hand-assembled units are available in an 18 karat gold finish or a stainless steel inlay. The back of the phone is wrapped in supple leather that features the Versace Medusa head embossed on the back. It has been reported there also may be a Unique offered in black leather.

Read more

3. Vertu

All of these models are handmade limited editions. However, three models head the Vertu class due to having fewer units made than typical limited editions - which usually average in the low thousands. With only 88 produced, the Constellation Vivre is the most exclusive Vertu. It is made with red gold and has an engraved bezel, black ceramic keys, and white diamonds with a protective stitched-leather backing.

Read more

4. Amosu Pink Diamond Editions

The dazzling Pink Diamond Limited Edition iPhone contains 527 brilliant-cut diamonds of VS quality and includes a free year of international-concierge service as well. The Pink Diamond Bold Blackberry, also a limited-edition model, has 86-brilliant-cut diamonds of VS1 quality and comes with free international-concierge service.

Read more

5. Xperia Pureness

The Xperia Pureness is considered to be a work of art as the company's designers set out to produce an object of design, which reflects the purity of water and a sense of calmness when not in use. The cell phone is not only stylish and sleek with its transparent scratch-resistant monochrome screen, but is also equipped with a wide array of features and backed by a tailor-made service package, which provides customer support options and 48-hour phone replacements, a Pureness Concierge, ActiveSync capabilities, and mobile Internet.

Read more

6. TAG Hauer: Meridist Automobil Lamborghini Cell Phone

TAG Heuer and Lamborghini have forged a partnership to produce the Meridiist Automobili Lamborghini cell phone. Only 1,963 will be marketed worldwide to commemorate the year this fabled Italy-based automaker was founded. The inspiration for this superior-crafted communications device is the supercar Lamborghini Murcielago. The time in hours, minutes, and seconds is displayed across the top of the unit on a screen atop the central display screen.

Read more

7. Dior

Since we featured Dior's debut line last year, they have become a rage amongst affluent and classy buyers. The new line offers additional models that are gold plated and black PVD coated with encrusted sapphire crystals, running $6,500.00. There are also two models that are encrusted with diamonds- the Zelie with a red casing and the Zenaide in white. The two models cost $7,900.00 and $13,400.00 respectively. Both are available by special order only. Read more

8. Gresso: Grand Monaco Collection

If you're an F-1 enthusiast, you're going to love Gresso's latest phone products dubbed as the Grand Monaco Collection. Luxury electronics company Gresso revealed details of this new collection, which is inspired by Formula 1 racing and renders the main characteristics of a supercar.

Read more
You might like :
Ultimate Luxury Smartphones
Finding the best in luxury can be a daunting task, which is why we've taken it on for you.
LET'S CONNECT LUXURY NEWS & MORE