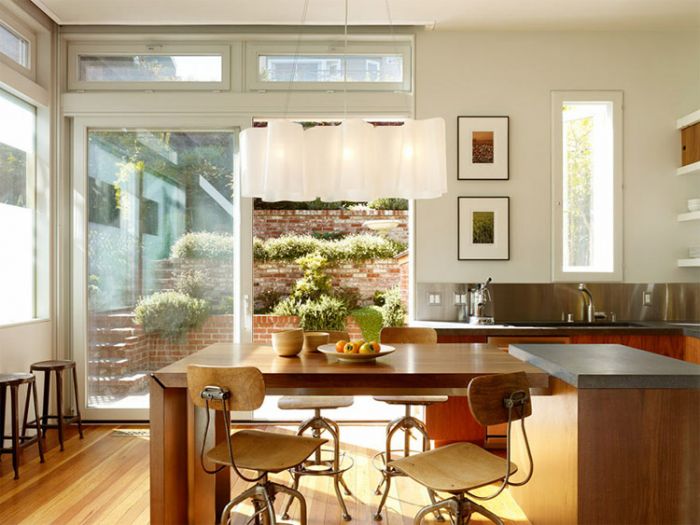 Photo Credit Schwartz and Architecture
From Schwartz and Architecture, the San Francisco designers behind the award-winning luxury accommodation
Nineteenth Street Residence
, also comes the Buena Vista Residence. The San Francisco Victorian, undoubtedly beautiful, had a limited kitchen area due to the property's age. The architects at Schwartz were able to redesign the kitchen, allowing a more natural flow to occur within the home. A custom island was installed as well as a drop leaf table. The addition of the table created the ability for the space to convert from a casual family dining space to a work area for children's art play or bookkeeping.
According to the firm, "Movement is often at the genesis of our work. We carefully choreograph spatial sequences to unfold in ways that provoke exploration and, thus, engagement with the built and natural world. At times, this is expressed through formal gestures that promote the sculptural reading of the object." This feeling of movement is highly evident in the Buena Vista Residence, where light traverses the home's clean lines and
fine home furnishings
. The contemporary editions blend well with the property's Victorian era foundations allowing its owners to enjoy modern living within a classical backdrop.
To see more visit
SchwartzAndArchitecture.com
.