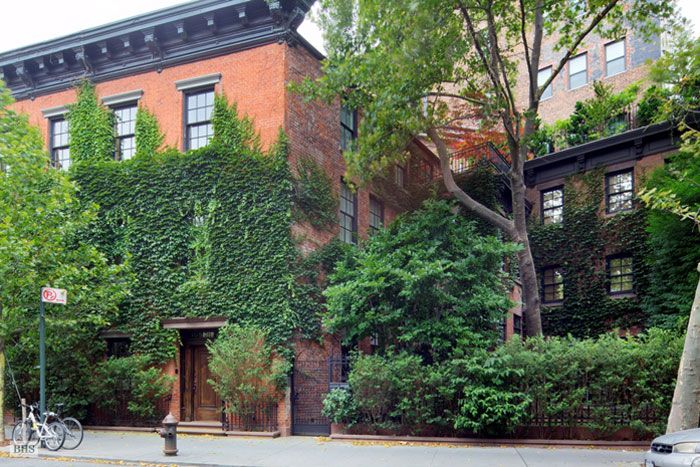 Photo Courtesy of Brown Harris Stevens
Known for her stunning portraits, famed photographer Annie Leibovitz has now decided to sell her beautiful $33 million
luxury home
in the West Village for a move uptown (an area that is closer to her daughter's school.)
If Leibovitz applied even a smidge of that creativity she puts into her body of work to these living quarters, then this stunning New York City compound located in the ever-posh Greenwich area is bound to have potential buyers, as well as innocent passersby's, shamelessly ogling.
Positioned on the northeast corner of Greenwich and West 11th Street, this stunning residence is approximately 10,202 square feet and encompasses three distinct townhouses surrounding a private garden. With its red brick exterior and an interior that boasts beautifully distressed hardwood floors, this fabulous abode is a vision of true rustic simplicity and elegance. Despite its sheer size and vast open areas, this beautiful home manages to maintain its cozy charm – acting as a luxurious escape from the fast-paced city life.
Upon entering the home, one is greeted by soaring ceilings and twin wood-burning fireplaces – truly setting the tone for the rest of the townhouse. Venturing further into the home, one discovers a formal dining room and a gorgeous chef's kitchen that overlooks the slate patio and private courtyard. A main stairwell leads to the private levels and there is also a second rear stair that starts at the kitchen and leads to a guest triplex.
The master suite on the third floor of the residence has a wood-burning fireplace, several spacious closets and a full bath, and the rear end of this luxurious suite features a den, sun room and a wood-burning fireplace.
As for the top floor, the residence includes four bedrooms (each boasting their own fireplace), two full baths, hallway and bedroom closets, a laundry room and a playroom. There is also an English basement level with one bedroom, a full bath, a laundry room, storage space, a mud room, as well as a separate entryway to the private West 11th Street courtyard.
The studio is configured as a large workstation and reception room with, you guessed it, another two wood-burning fireplaces (the home has a total of 13). On the third floor of the studio there is a larger workspace located in the front area with an office/library in the rear, a kitchen and additional studio space in the English basement.