May. 10th, 2011
Spice Market, London Opens its Doors to Diners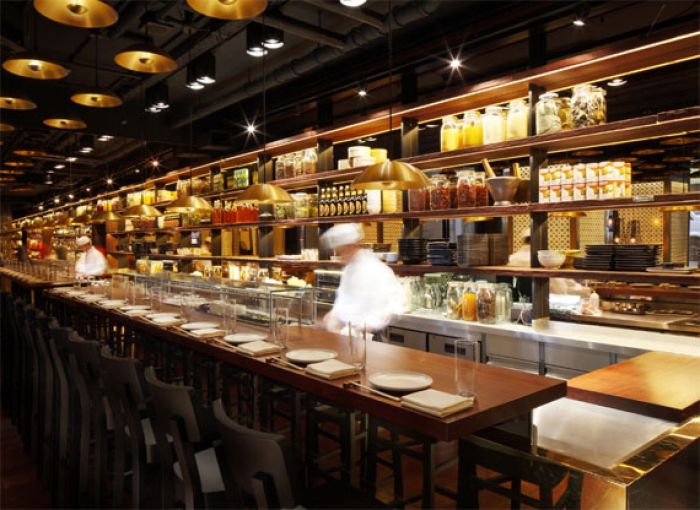 Photo Courtesy of Spice Market, London
Its sister restaurant in a trendy part of New York is already a fashionable haunt, so there are high expectations for the opening of the Spice Market in London.

There's been a buzz about the unveiling of this venue since three Michelin-starred Chef Jean-Georges Vongerichten, who has been credited with "inventing America's answer to nouvelle cuisine," was tipped to launch it.


My fiance and I - big fans of South East Asian food - are keen to see whether it lives up to its hype. Once inside, the decor is striking - vibrant reds and golds are splashed on to deep mahogany woods creating a contemporary design by Amsterdam-based team Concrete.

There is gold mesh over the windows - although I'm not sure whether that's to stop passersby from looking in or diners from looking out - and 600 custom-designed wok lamps covering almost every part of the ceiling. We head to the bar for a pre-dinner cocktail. There are four of five barman, busily creating colorful concoctions.

It's surprisingly warm on the streets of London tonight, so I'm feeling summery. I opt for a Lychee Raspberry Bellini (£9) while Rich tries the very unmasculine Yuzu Lemon Drop (£12). The rear wall houses a 24-meter-long wall of spices containing all the colors, flavors and fragrances of the South East Asian dishes served at Spice Market.


There are 34 seats downstairs available for dining, a cocktail lounge with 32 seats and a sushi bar. Upstairs hosts 95 seats with an open kitchen and a private room accommodating up to 40 covers. We walk up the 'birdcage' gold spiral staircase to our table. Low slung black leather banquettes encircle the rooms and diners can choose to sit at intimate booths.

Rich and I are seated close to the open kitchen. It's lively to say the least, although we almost feel as though we're intruding on the busy chefs. We opt for the tasting menu, so we are left in the hands of the expert chefs. However, we soon discover it should come with a warning, as it's five courses of large portions!

It's a fusion of Asian street food with a Western twist. Rich gives the thumbs up to his selection. There's Shaved Tuna, Chili Tapioca, Asian Pear and Lime Lobster Sumer Roll; Spiced Chicken Samosas, Coriander Yoghurt Charred Chili Rubbed Beef Skewer, and Thai Basil Dipping Sauce.


He's then treated to Halibut with Malaysian Chili Sauce, Thai Basil Baby Corn and Broccoli, Lemongrass, Chili followed by Char Grilled Chicken, Kumquat Lemongrass Dressing with Ginger Fried Rice.

My selection is just as impressive. There's Avocado Summer Roll, Sriracha Emulsion with Pea Shoot and Sugar Snap Pea Salad, Spiced Oil; Fragrant Mushroom Egg Roll, Galangal Emulsion Beetroot Salad with Yoghurt, Chili and Fresh Herbs.

Then I'm served Vegetables in Green Curry, Baby Corn and Broccoli, Lemongrass Chili and Pressed Tofu, Bok Choy and Coriander Ginger Fried Rice. All the dishes are an explosion of tastes, colors and individual designs. Each creation works as well as the one before, with combinations that look daring on the menu, working extremely well in the flesh.


We wash it all down with a delightful bottle of Riesling Spatlese, Selbach Oster 'Zeltinger Sonnenuhr' 2006 Mosel-Saar-Ruwer, from Germany (£11.50). We're too full for dessert, but still manage to try the delicious Ovaltine Kulfi with Spiced Milk Chocolate Sauce and Thai Jewels.

Rich and I leave on a high. It's been a great night filled with a lively atmosphere and fantastic food. The Spice Market is a winner. It offers something that Londoners will struggle to find anywhere else in the city; and we're already making a date to return.

Spice Market, London
10 Wardour Street
Westminster, London W1D 6
United Kingdom
020.7758.1088
spicemarketlondon.co.uk
.

London Map

.
.

Luxury Hotels in London

.



Claridge's

Spa, Wedding, Boutique, Tourism, Culinary



Carol Driver

A journalist with more than 12 years' experience writing, subbing and editing at national and regional publications and websites in the UK.