By Eric Rosen Sep. 12th, 2011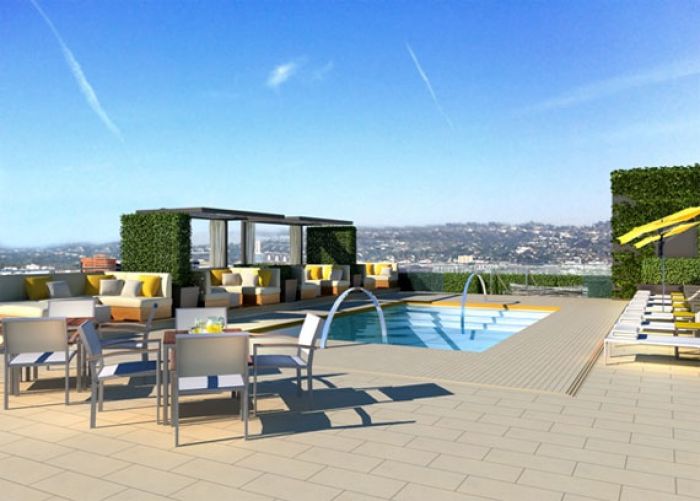 Photo Courtesy of The Roof on Wilshire
There are so many new and imminent openings on LA's restaurant scene lately that we had to split up our handy list of the latest and greatest into two sections. If you didn't have a chance to look at the first one, you can find it here. Otherwise, read on below to find the second part of our roundup.
There's not much new or special about pizzas. Or sandwiches. But pizza sandwiches? That's a whole other story, and the specialty at Rascal, a new neighborhood gastropub from husband and wife Sandy and Rebecca Clark. Sandy used to be the Beverage Director of the Chaya Restaurant Group for twenty years, so you can bet he knows what he's doing with the small but carefully chosen list of draft and craft beers, as well as an ever-changing eclectic wine list. Chef Michael Bentley, meanwhile, will be grilling up specialties like the fish and chips sandwich with dill tartar and deep-fried fresh chips, as well as that pressed pizza sandwich we told you about. Just leave room for house-made tater tots on the side.
801 S. La Brea Ave.
Los Angeles, CA 90036
(323) 933-3229
It can be hard to find a good, quick meal out on Melrose Avenue, which is more of a venue for upscale eateries like Mozza, Hatfield's and Red O. But in early October, a new sandwich spot called Marcona opens—which Chef Matthew Moss describes as an "East Coast sandwich shop with Mediterranean influences and a West Coast sensibility." That translates to dishes like a Gyros Espana with merguez lamb sausage, piquillo peppers, baby arugula and raita sauce; and an organic turkey albondigas (meatballs) sandwich with spiced tomato, homemade giardinara and Manchego cheese, among others. Who says good food has to be expensive?
7638 Melrose Ave.
Los Angeles, CA 90048
(323) 951-5252
There are some gorgeous hotel pools in Los Angeles, and there are some fabulous restaurants, but combining the two into an alfresco experience of panoramic views and gourmet dishes is Roof on Wilshire at the newly opened Wilshire Hotel, an LEED-certified (eco-friendly) boutique property with just 74 rooms right in the heart of Wilshire's Miracle Mile. We're already salivating over a menu designed by LA fixture and chef at the Foundry, Eric Greenspan, that will include dishes like barbecue pork steam buns, and absinthe-steamed mussels. Hardcore. The other draw? A cocktail menu of twisted classics like the Horseshoes with rye whiskey, sweet vermouth, lemonade and Pimm's for an extra kick as you enjoy it by the flickering flames of a fire pit. And if you need to clear your head, you can always go for a refreshing dip in the pool.
6317 Wilshire Blvd.
Los Angeles, CA 90048
(323) 852-6002
You don't have to be vegan to enjoy the food at the new Seed Bistro in West LA. Younger (and bigger) sibling to Venice's beloved Seed Kitchen, this new eco-friendly iteration shares its forebear's mostly green color palette and a macrobiotic menu of health-conscious delicacies like quinoa and kale salad with avocado-lemon wasabi, nori and dill; raw kelp noodles with squash, avocado, Maine coast dulse and coconut-turmeric soup; and seitan pepper steak with watercress and fork mash potatoes, as well as a counter kind of like the ones in sushi bars where the chef will serve customers an omakase-style (read: whatever's best that night) menu of six-courses. Eating healthy can be delicious, too.
11917 Wilshire Blvd.
Los Angeles, CA 90049
(310) 477-7070
SmithHouse Tap and Grill
Joining the cadre of restaurants slowly transforming Century City into a dining destination, this new gastropub features a menu designed by Top Chef favorite Chef Angelo Sosa. Here he lets his wild side loose on dishes like green tomato gazpacho, a wedge salad with pickled shallots and braised pork belly, a General Tso's chicken club sandwich with chili mayo, and a Cheddar Crunch burger whose bite comes from crushed Fritos. Oh yeah, and there are 120 beers on tap. Sounds like just the right number to us.
10351 Santa Monica Blvd.
Los Angeles, CA 90025
(310) 432-4360
Is there anything better than enjoying a frosty mug of beer and a smoking hot sausage out in a classic German beer garden? Well, you might not have purchased your Oktoberfest tickets in time, but at least you can now head over to this new beer hall on La Brea for your fix of brews and brats, plus specialties like pretzels (how could you forget those?) schnitzel and potato pancakes. Just be sure to get your lederhosen let out before you go (come on, we know you have a pair). And until then, as our friend Heidi Klum would say, auf wiedersehen!
345 N. La Brea Ave.
Los Angeles, CA 90036
(323) 931-9291
Eric Rosen
Eric Rosen lives in Los Angeles and writes about food, wine, travel and adventure... usually in some combination of the four. He regularly contributes to Los Angeles Confidential Magazine, Condé Nast's HotelChatter and Jaunted, TravelAge West, Palate Press, Frontiers, Edge and Wandermelon. His work has also appeared in the L.A. Times. When he is not exploring the Los Angeles dining scene, Er...(Read More)