By Eric Rosen Jan. 24th, 2011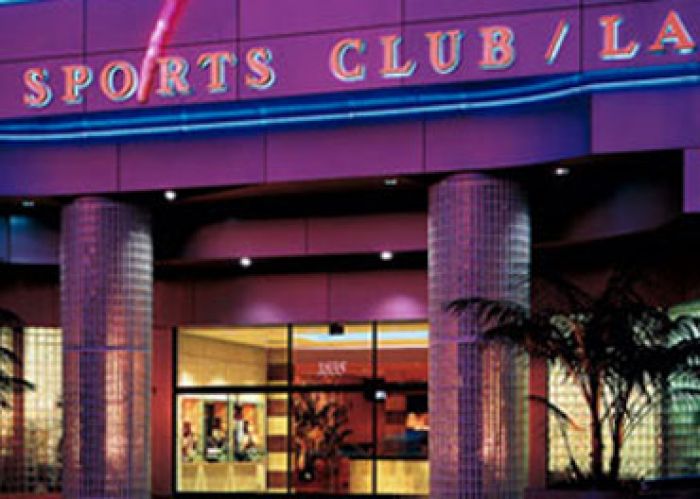 It's always right around the
New Year
that everyone finally decides to tackle those self-improvement projects they've been meaning to get to all year. Apparently, the same holds true for the gyms where people go to put those New Year's resolutions into practice.
By far some of Los Angeles' best fitness facilities, The Sports Club/LA's two locations in West Los Angeles and Beverly Hills, are starting their New Year with a fresh look. The $2 million worth of new equipment and a slew of new classes are helping whip clients back into fighting shape after the holidays.

There are three pieces of amazing new equipment at the gyms. Both locations have new Woodway EcoMills and VibePlates, while the West Los Angeles location has a new G sycle machine.

The Sports Club/LA is the first fitness complex in Southern California to have the Woodway EcoMill, which it described as "the best new butt workout in town." It's a non-motorized treadmill, meaning it's self-powered, forcing the user to propel the belt themselves, simulating an intense uphill climb. It's sort of like getting back to fitness basics, without those silly antiquated gym costumes you'd see Teddy Roosevelt wearing.

The VibePlate is a first for both Southern California and The SportsClub/LA, giving users an effective workout without the wear and tear of a strenuous regime. Basically it's a vibrating platform that increases circulation, flexibility and range-of-motion to tone the body. It simultaneously boosts balance, burns fat and reduces cellulite.


The West Los Angeles location has the special privilege of being the first fitness center in the country to introduce the G sycle, a heavy-duty skating machine with pedals that move in a seamless, lateral motion. It provides continuous cyclical motion and has five different programs tailored for different fitness needs.

Both gyms are also getting new cardio machines, including Cybex Arc Trainers with TV and iPod Connect, upright and recumbent bikes, and a variety of weight-lifting machines.

The gyms are also introducing four new fitness classes for guests of all levels. Mission Possible is a new hybrid of spinning and pilates that tones and burns by combining resistance training, stretching and cardio into a single workout. Club Cardio Dance is basically a big sweaty dance party designed to melt away fat while grooving to the Top 40 tunes you usually belt out in the sanctity of your car.

Pump 'n Grind is like starring in your very own music video. You learn a simple, but lively, dance routine set to hip-hop tracks. It's then put to use as you dance off with your fellow classmates.

Finally, renowned choreographer Milo Levell has created a new Flashback Cardio Funk dance class that brings hip-hop into the fitness studio. It combines equal parts nostalgia and heart-pumping action. Nothing like a little funk to make fitness fun.

The Sports Club/LA-Los Angeles
1835 Sepulveda Blvd.
Los Angeles, CA 90025
310.473.1447

The Sports Club/LA-Beverly Hills
9601 Wilshire Blvd.
Beverly Hills, CA 90210
310.888.8100

www.thesportsclubla.com
Eric Rosen
Eric Rosen lives in Los Angeles and writes about food, wine, travel and adventure... usually in some combination of the four. He regularly contributes to Los Angeles Confidential Magazine, Condé Nast's HotelChatter and Jaunted, TravelAge West, Palate Press, Frontiers, Edge and Wandermelon. His work has also appeared in the L.A. Times. When he is not exploring the Los Angeles dining scene, Er...(Read More)