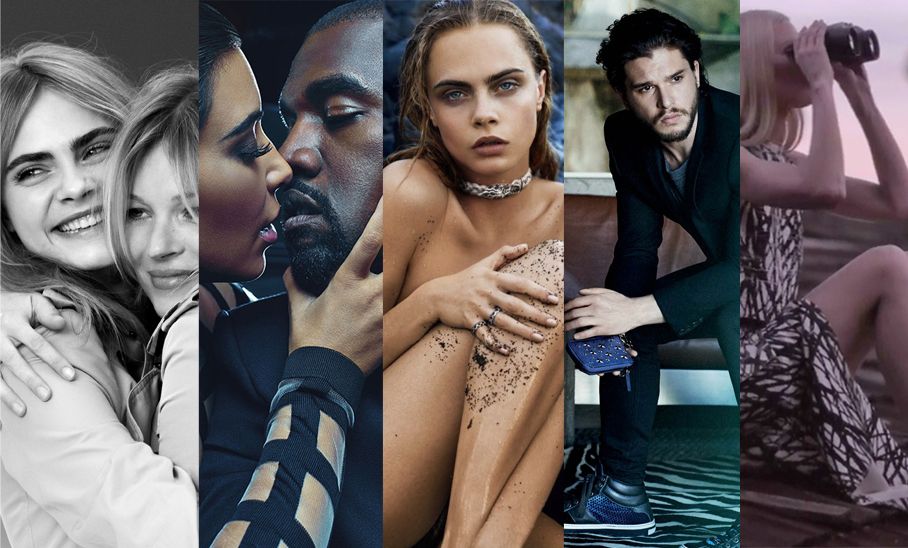 Burberry, Balmain, John Hardy, Jimmy Choo, Proenza Scho
There's something both nostalgic and heartwarming about welcoming in a new year. On one hand we'll miss all the ridiculous antics of 2014 (a certain Vogue cover comes to mind) and on the other, we're looking forward to the possibilities of 2015. Taking a look back there were some amazing moments and shocking news, but some stood out as the absolute best. Ahead, we remember the top headlines (in our opinion) of the year, from runway shows to strange celebrity news—like that awkward Anna Wintour musical.
Photo Courtesy of Balmain
Best Men's Campaign
Originally this was going to Kit Harrington for Jimmy Choo, until Kimye slipped just under the wire with their latest Spring 15 campaign with Balmain. Even the Game of Thrones cast can't complete with the power of this "it" couple. Kanye wears the latest from the Parisian brand with Kim posing in the background for a little extra eye candy.
Photo Courtesy of Cara Delevingne via Instagram
Best Women's Campaign
Cara Delevingne and DKNY had an amazing year together. The model not only posed in their Resort 2015 campaign, but partnered with them to create a capsule collection that sparked a mini-freak out on social media. Holding a competition for a "few lucky fans" to star with her in the campaign only fueled the fire. While the resulting campaigns were not the most beautiful or most creative, as far as PR goes, they were absolutely the most inventive.
Photo Courtesy of Jimmy Choo
Best Men's Fragrance Campaign
Luckily Kit Harrington's Jimmy Choo gig also names him the face of the brand's fragrance. (You knew we were going to find a way to get Jon Snow in here.) While we can only imagine that he smells fantastic as he sulks around his palatial estate, to be totally honest we don't care what it smells like. If he's selling, we're buying.
Photo Courtesy of Burberry
Best Women's Beauty Campaign
Well this was not an easy choice. Was it Cara Delevingne for Tom Ford, Cara Delevingne for Saint Laurent or Cara Delevingne for Burberry? Decisions, decisions. Sure in the end we were leaning toward a naked Delevingne posing with Ford's latest fragrance, but the additional punch of Kate Moss in the My Burberry perfume ads won us over. Plus the shots make it looks like the two are BFF's and that makes all our fashion fantasies come true.
Photo Courtesy of Proenza Schouler
Best Fashion Film-Women
Last spring a burst of fashion shorts left us with a ton of three-minute commercials for some of our favorite brands. But nothing beat the Proenza Schouler short for Dazed magazine that had the suspense of an espionage film and the wardrobe of an editor during Fashion Week.
Photo Courtesy of Ermenegildo Zegna
Best Fashion Film-Men's
Apparently espionage and secret agents are quite popular in the world of fashion as Ermenegildo Zegna, showcased its suit collection in their 20-minute short entitled A Rose Reborn. With several suit changes, an entire closet of tailor-made garments and a well-dressed cast, it's hard to ignore the fashion for storyline, but surprisingly it works. And the results are awesome.
Photo Courtesy of Vogue
Best Magazine Cover
I need to preface this by saying that while this is absolutely not the best magazine cover—it is the one that sparked the most controversy. After notoriously hounding Anna Wintour, Kanye was able to get Kim Kardashian on the cover of Vogue with the hashtag #worldsmosttalkedaboutcouple. People flipped out. Good or bad, it definitely created a buzz.
Photo Courtesy of Shutterstock
Biggest Baby News
Despite Scarlett Johansson, Mila Kunis and even Kate Middleton announcing their pregnancies this year none of them compare to Eve Mendes—for the sole reason that her baby daddy was Ryan Gosling. Cue the sobbing. We went through the seven stages of grief, and after disbelief, denial, bargaining, guilt, anger, depression, we began to have hope—hope that someday we'll still have a shot with him.
Photo Courtesy of Chanel
Best Women's Runway
Moschino almost had this one. A bright pink Barbie runway? How can you beat that? Well Chanel's Fall 14/15 show basically owned in this category not for the grocery store setup alone, but for the fact that the stage was ransacked, people were sneaking out with stolen props and insiders wouldn't stop talking about it for weeks. Would we have ransacked the supermarket stage? Maybe a little—but who doesn't want their own Chanel broom?
Photo Courtesy of Burberry
Best Men's Runway
While most men's shows are somber affairs, Burberry's Spring 15 show this fall was a wash of bright colors and upbeat music, playing to the same artsy beauty that was captured in the women's line. It was fresh and fun, which is more than can be said for most men's collections.
Photo Courtesy of Ringly
Best Wearable Tech
Okay, if it had actually come out in 2014, you know the Apple Watch would be sitting firmly at the top of this list. But since all we got was an announcement, we can't do more than be excited about it. Instead we're pretty hyped about Ringly. The cocktail ring notifies of emails, text, calls and social media updates all with customizable, color-coded options.
Photo Courtesy of Shutterstock
Best WTF Moment
While the entire year was filled with moments that made us take pause, there were some wild and crazy ones that sit right on the top of the list. Things like @condeelevator, Gwyneth Paltrow's "conscious uncoupling" and the dominatrix inspired Pirelli calendar. But the biggest WTF moment? Anna Wintour getting her own musical. Granted it isn't opening on Broadway anytime soon, but still—so out of left field.
Photo Courtesy of John Hardy
Best Jewelry Campaign
For this campaign we couldn't ignore Cara Delevingne (who enjoys getting naked apparently) as she stripped down for John Hardy's new Balinese Fall 2014 campaign. Shot on location in Bali, the beachside campaign shows Cara at her best—the jewelry is front and center, but you can't quite escape that smoldering stare.
Photo Courtesy of Piaget
Best Watch Campaign
Piaget's campaign video, entitled A Mythical Journey, showcased the inspiration of their latest collection and offered a look at some of the most beautiful and exotic territories of Asia. Their collection was inlaid with Chinese cranes, mirrored the silhouettes of peacocks and echoed the culture of the silk roads in China with 32 new timepieces. It was luxurious and offered something different than the same luxury watches over and over.